At 7pm on April 14th, I kissed my fiancé goodbye as he was about to leave our apartment for the traditional "don't see the bride until she walks down the aisle" deal. Our relationship is fairly traditional and we don't have religious affiliations or rituals that dictate our course in life so we chose what we wanted to honor- what we felt was necessary for us. As he was about to leave for his parents' house I broke down crying. It feels so juvenile for me to admit and I don't know why I did it- perhaps it was out of fear for what would happen the next day or maybe it was that this transition into becoming a bride had to be accomplished without his help. He took a few more minutes to cuddle and comfort me, repeating to me that everything would be okay, and then I pretty much had to kick him out so that I could calm down or else I would have blubbered all night because I knew he'd be leaving.
I still wanted this ritual to happen for the sake of the wedding day hype but it was difficult to know that I wouldn't see him until we were ready to say our "I do's". In the week leading up to my wedding I became more anxious about having everything perfected and then I immediately feared for the condition of my skin because of the "anxiety-> skin picking-> anxiety caused" cycle. I made a strong attempt to focus on picking my legs because I felt I still needed an outlet, a way to manage the amount of stress I was under but stopping altogether would cause me severe mental anguish that could backfire in an all-over pickfest right before the wedding.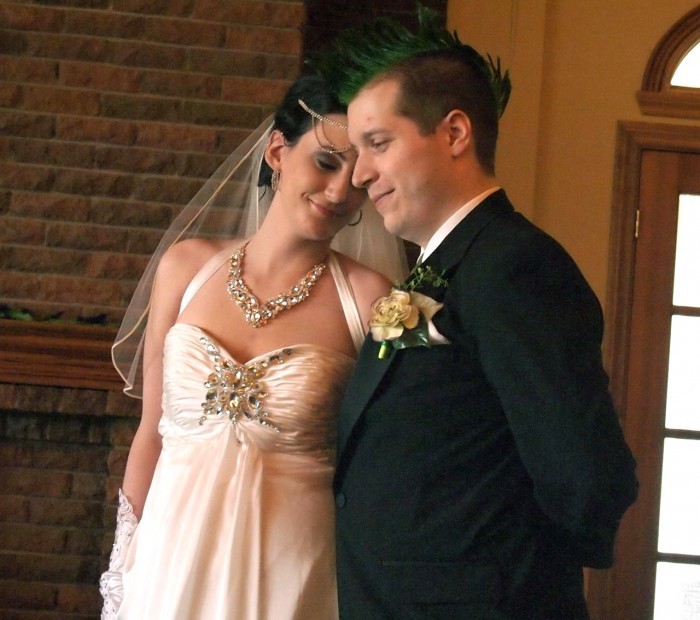 I bought my dress immediately after finding out that we were bumping our wedding date up from 2015 to 2014. A mermaid-style dress really created an hour-glass illusion but I couldn't sit down in it because of how it cinches at the legs, a princess gown is too heavy for my back to carry in the run of a long day, and… well… there aren't many dresses that cover up my disproportionate belly fat that I am admittedly self-conscious about. I then found the perfect empire- style dress that complimented my "Princess Serenity" inspiration. Fast forward to the days leading up to the big one, my upper chest was not doing its best and I had a pseudo unibrow that materialized due to a pick mark. Luckily, the latter went away with daily applications of Polysporin but I was still left with a chest that would prove to be difficult to cover up with makeup.
That fear was confirmed when I got to the makeup studio to get my makeup done professionally. My makeup isn't exactly top- quality and with only one tiny mirror in the house that I need to stand at to apply makeup to, I decided on going professional. I was not pleased by the young woman's job as she kept doing eye makeup differently than I wanted (probably because most brides want a neutral look whereas I'm a little more eccentric) and she was not able to cover up the marks on my face or upper chest. I was proud that I left my face alone for the most part and thought a simple foundation with concealer would do the trick but she kept caking it on and said that if I wanted it done properly I'd have to go to the drugstore and buy Dermablend because they only use products from their line. Way to upsell their own product, huh?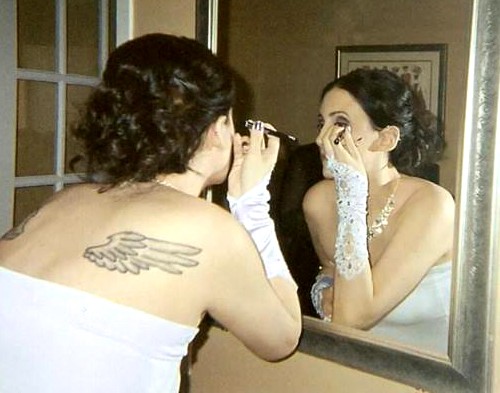 In the end, it turned out great although on further examination I noticed my eyeliner wasn't brought to the corner of one eye like it was the other which prompted a panic mode for me. I borrowed my friend's pencil eyeliner to try and fill it in (I know, sharing= bad, but it was an emergency!) and more came off with the application! One of my bridesmaids, with half an hour until I walked down the aisle, rushed out to the drugstore to buy liquid black eyeliner that would suffice. As irrelevant as this may seem and even heavily superficial, I, along with other skin pickers I'm assuming, have a certain hypersensitivity to our skin which even branches out from our complexion to the way our makeup is applied… which also makes it hard to trust someone else doing our makeup.
Then I was all ready, at 3:45pm to walk down the aisle and see my handsome hubby-to-be for the first time since I wept in his arms. Surprisingly I wasn't nervous at this point as much as I was excited and when I stepped out onto the aisle holding my father's arm, there he was. My love stood there with this look on his face I had never seen- one that was stoic yet emotional, panicked yet heartfelt, one of awe as if someone stole his breath, and it was truly a moment frozen in time. I felt the need to acknowledge everyone in our audience with a smile or nod but at every chance my eyes were drawn back to his striking blue eyes.
The ceremony itself went beautifully and with it came our individual vows. A part of my life, my advocacy, relies on the ability to reflect on what life used to be versus how it's changed for the better and I couldn't help but find a fitting passage from FOREVER MARKED: A Dermatillomania Diary to add to my vows.
Jason's vows were very cute and fitting to our relationship. Afterward we took part in family and wedding party photos then we scooted with our photographer off to the place we met at followed by our apartment where I wanted to get some Derma shots taken. I don't share these images in hopes of becoming the next viral sensation (God knows the comments that the majority of the public would be making) but for those who are in my situation, those who feel held back in the love department like I once did because of the marks on their body. This is proof that you can be loved, accepted as you are, be in a healthy relationship; but first and foremost you have to love and be kind to yourself before you can truly let someone into your heart and accept you for everything you are. In some strange sense, having Dermatillomania has been a gift because I had to find someone who could accept this heavy burden and I had to know myself enough to only allow someone with a kind heart in.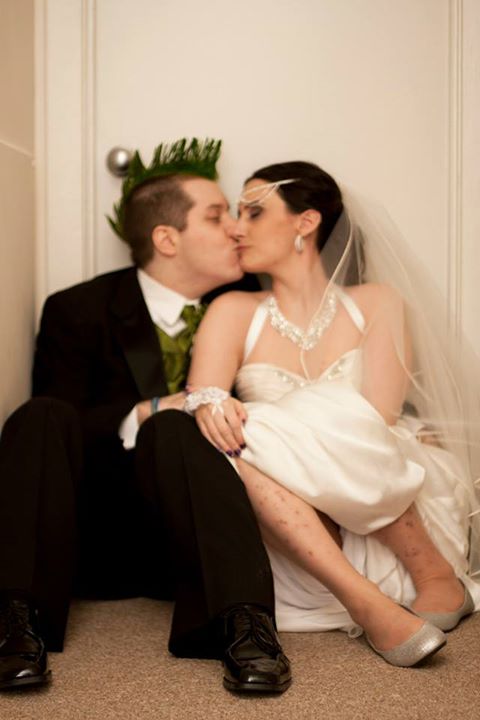 We had cake, karaoke, dances, cuddles, and the turnout of guests was overwhelming. The love we have received from friends, family, and supporters has been very uplifting! Cards, presents, and yes, "likes" and comments on what we've shared. The day itself goes by very quickly as there is much preparation and taking the time to speak to all 70 guests can take up more time and energy when you're an introvert. While there may have been minor blips that we could nit-pick about, Jason and I agree that our wedding day was absolutely amazing with all of everyone's love and happiness swarming us, encouraging us as we enter the next part of our lives together. We have memories (such as his cousin's daughter following me around because I was "a princess") that positively define the best day of our lives and we'll never forget how everyone contributed to the success of our celebrations.
The honeymoon? Well, we went home that night and the next day we checked into a Jacuzzi suite of a local hotel with a bunch of candy and relaxed. There was a HEATED swimming pool near the lobby we had to ourselves; swimming was a huge part of my childhood and having Dermatillomania robbed me of the confidence to be near public waters, having to explain my marks, or why I was wearing pants if I hid them, so I cut that out of my life and have slowly reintegrated it now that I understand and accept myself more than I did over a decade ago.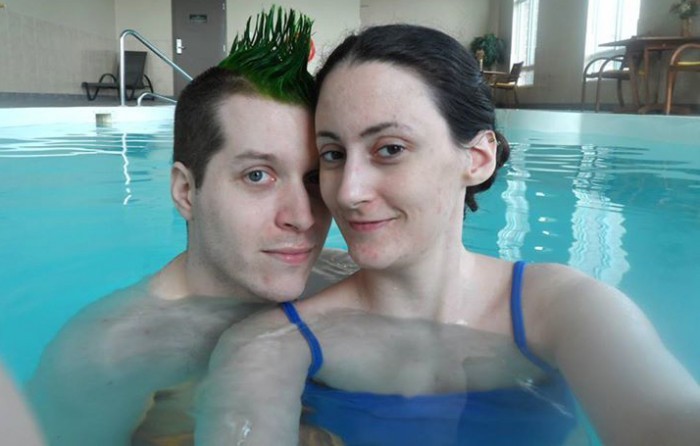 I was on television just 10 days after the wedding to promote Scars of Shame and explain what it's like, for me, to have this disorder and managed to publish a Huffington Post piece about being the subject of a documentary. Also, despite being married, I am choosing to keep my last name as "Hartlin" for advocacy purposes but will opt to separate my identity by using Jason's last name. Legally, I'm still confused about how to go about switching and how it'll affect anything created with my former last name but I'm not doing this to deny myself, my disorder, or any affiliation with the BFRB community.
I feel it is important for me to regain some anonymity as I believe it may be a culprit as to why I have not been able to get callbacks from employers. I don't know when my back will heal up enough to re-enter the workforce, if it will at all, but I do want the chance to at least have a face-to-face interview and be able to make an impression on a prospective employer instead of being judged or deemed a liability due to having a mental health condition. While I am proud of my achievements with my book, CBSN, TLC, and now with the documentary, I am in a place where I feel that I need to swallow my pride and not focus on my unique abilities that I believe positively separates me from the crowd- but who knows, maybe that won't work and I'll integrate it back into a resume. Only time, trial and error will tell!