Life has been a complete roller coaster for me these past 6 months. Aside from my usual debilitating back troubles, I got to marry the love of my life back in April… but when something amazing happens in my life, Newton's Third Law "for every action there is an equal and opposite reaction" comes into effect. Just 3 months ago, I had to say goodbye to my beloved cat nicknamed "Piggy".
Anyone who doesn't understand how strong and committed a bond between a human and pet can be need not read the next 2 paragraphs (but can pick up the message of "grief" now and scoot forward to my conclusions) which will explain my love for Piggy and what I've learned from losing such an important part of my life.**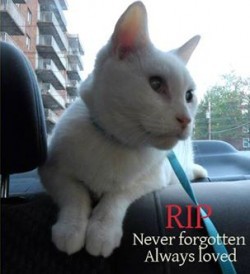 I was 13 years old and fresh into grade 8 when we got a 1 or 1.5 year- old Piggy from my cousin; in context to my life, the picking on my legs became uncontrollable 8 months later. Born deaf, he was diagnosed as having diabetes when I was entering grade twelve at 17 years old which meant that after getting it regulated he would have to go in for yearly glucose curves to make sure his blood was still in a normal range. We were told that normally, cats with diabetes do not live normally past 6 years after being diagnosed due to organ failure or inability to remain stabilized although theoretically they should with sustained levels. With giving him insulin needles at 7am and 7pm for 11 years (and even employing family members to babysit if I worked/ needed to be somewhere), I had to have him put down due to crashing hard and fast.
With all of the people who have come and gone from the time I was 13 until now, at 28, Piggy was there for me. I may be accused of anthropomorphising my connection to him but he loved me and would be there to cheer me up; during my suicidal days, he was a huge incentive to live because I knew how he couldn't survive without me (he went on hunger strikes, which could be fatal to diabetics) and I wanted him happy. I may not ever have children, I do not know yet, but what I do know is that I treated him like my very own baby. He never judged me, he never thought ill of me (well… for more than 5 minutes anyway!), and loved me during the years that I felt so damn alone.
** Now I must discuss something that I try not to talk about because it's always been foreign to me: emotions. During my suicidal years I felt nothing but an empty yet numbing pain daily because I do not process strong feelings easily. When I entered college and experienced bullying, my emotions became uncontrollable because I had defeated my suicidal depression and was finally able to feel again… but it came with the cost of feeling raw pain. This may be confusing to those who would think that a chronic emptiness would be soothing in comparison to full-blown emotional pain, but that is incorrect. Near the end of my teen years I shut off emotionally altogether because of the distress my picking caused me and I became numb. I refused to process those emotions to the point of not even knowing how to experience them and with them lingering beneath the surface, they built up and I would implode with suicidal gestures with accompanying mental health issues being patched up long enough until I'd crumble again.
When Piggy died… I lost it. For a good two weeks I'd have similar type of outbursts and felt like someone had scrambled my brain with everything inside of it… including my disorder. Two nights out of the first 7 was when I went into nighttime pick fests- in the first few days following his death on July 22nd, 2014, I can't recall picking my skin at all. Maybe I did, with it all being a blur now, but I lost control and even existing felt surreal. Normally, people link their skin picking to stressful events but the increase of picking came a week later as I tried to regain some functioning in my life.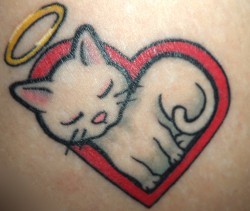 I'm still unemployed and have been for 2 years with most of that time being due to my back, which means I have been home alone with Piggy day-in and day-out with my husband working. To find positive coping mechanisms, I created a photo album with memories of Piggy, wrote in pet loss support groups, got a tattoo of him (which I didn't pick at- maybe because my mind perceives it as art that does not have to be "fixed"), wrote an article for the Huffington Post, framed his pictures in a few places, and collected his stray hairs from around the apartment for when I want to feel him (creepy or not, it felt right). What's still missing from the check list of things I did right is the emotional processing part which I am still partially disconnected from because of how difficult feelings are for me but I have faith I'm working through it, although painfully slow.
Picking my skin was something that was problematic around the age of 10 (I thought it was just acne, could've been a combination or just picking), just before my father's random blood clot to the brain so that could have made my picking worse. My grandfather's emotional abuse with targeting me, especially when my father became ill could have worsened it. Puberty could then have fully launched the disorder without a therapeutic chance to reverse it locally. For whatever reason I started picking; it no longer serves that purpose and has become ritualistic, habitual, is still compulsive, with my skin an obsession while playing with my visual need for perfection, is still seemingly spur-of-the-moment impulsive, and serves as an addiction with withdrawals when I don't get my "fix".
For the two months succeeding his death, it felt like I was trapped in my own home because of my back and being here reminded me constantly of this devastating loss. My husband would come home from work and I'd pretty much start bawling in his arms, which is never good for someone who works all day to come home to. I wanted to get acquainted with a local animal shelter for when the time came pick up a cat in need of a home and by the third visit on Sept. 25th, we found Bean: a 10 week old sleek kitten who is full of love, silliness, and life, which is what I need to distract me every day. Putting that responsibility on another entity is usually unacceptable but I was at a point where I needed that help to not remain trapped in my head with destructive thought-patterns pertaining to whether or not I was a good Mommy to Piggy. To also be honest, I had a feeling he'd deliver with no problem!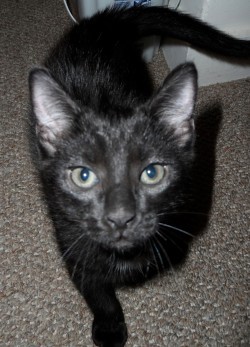 I felt guilty as hell for choosing a kitten because that's what everyone wants and I fully intended to fall in love with a grown cat but there was something about Bean that we were both drawn to. Theoretically, the cats that were there were once kittens that were probably scooped up from a shelter to then be discarded when they grew so technically we did save a kitten from ever returning to one because he now has his furever home. Before, I couldn't imagine only 2 months after Piggy's death going out and getting another animal but I was so lonely and each day dragged on with a heavy rain cloud that I couldn't hide from. These days, I'm still sobbing every other night about Piggy and find myself watching videos of him every couple of weeks to not forget him but I have also gained some insight into my own behavioral patterns.
What would happen if I stopped picking? Showered with the lights off, wore gloves all day with fake nails for when I have to wash, removed the last mirror I have, wore a sweater/ pants/ socks all day and night, slept with gloves and tights? I will probably experience what I have before with diarrhea, nausea, shakes, inability to form sentences from a lost train of thought, panic attacks, sweats, no sleep/ restlessness, and extreme emotional outbursts… but for how long would that happen for? Could I really go through all of that, come out on the other side "cured", and not have the urges anymore or only experience them to a slight fraction of what they are or would I have to live life in that borderlining- psychotic state until I give in? I wonder, if I can feel as horrendous as I did due to this event… perhaps I really can move through, and past, emotions that are uncovered and endure the withdrawals if I were to physically refrain from skin picking.
If anything, losing Piggy has been in my top 5 life events that have rattled me to my core. What I have learned about myself may be enlightening, especially if I am to ever challenge myself again with a "zero tolerance" approach (because I work things as "all-or-nothing"). For now, I need to find ways to continue to heal from my loss before removing something else that I'll have to grieve over, even if it's the very thing that still destroys a part of me daily. Thank you all for coming to my aide in such a time of need and understanding that I have not been my usual self these days.