Join me in raising worldwide awareness for Body-Focused Repetitive Behaviors (BFRBs) from Oct. 1st- 7th!
What are BFRBs?


"Body- Focused Repetitive Behaviors is an umbrella term for any chronic behavior that causes a person to consistently cause physical damage to oneself unintentionally through a compulsive act in order to relieve anxiety. BFRB's are pathological grooming behaviors that are thought to be driven by similar impulsive urges." via SkinPickingSupport
These include Dermatillomania (Excoriation Disorder/ compulsive skin picking), Trichotillomania (compulsive hair pulling), Onychophagia (nail-biting) and many more. The lack of resources, support systems, and awareness can lead a sufferer to other mental health afflictions on top of the damage caused by the behaviors themselves.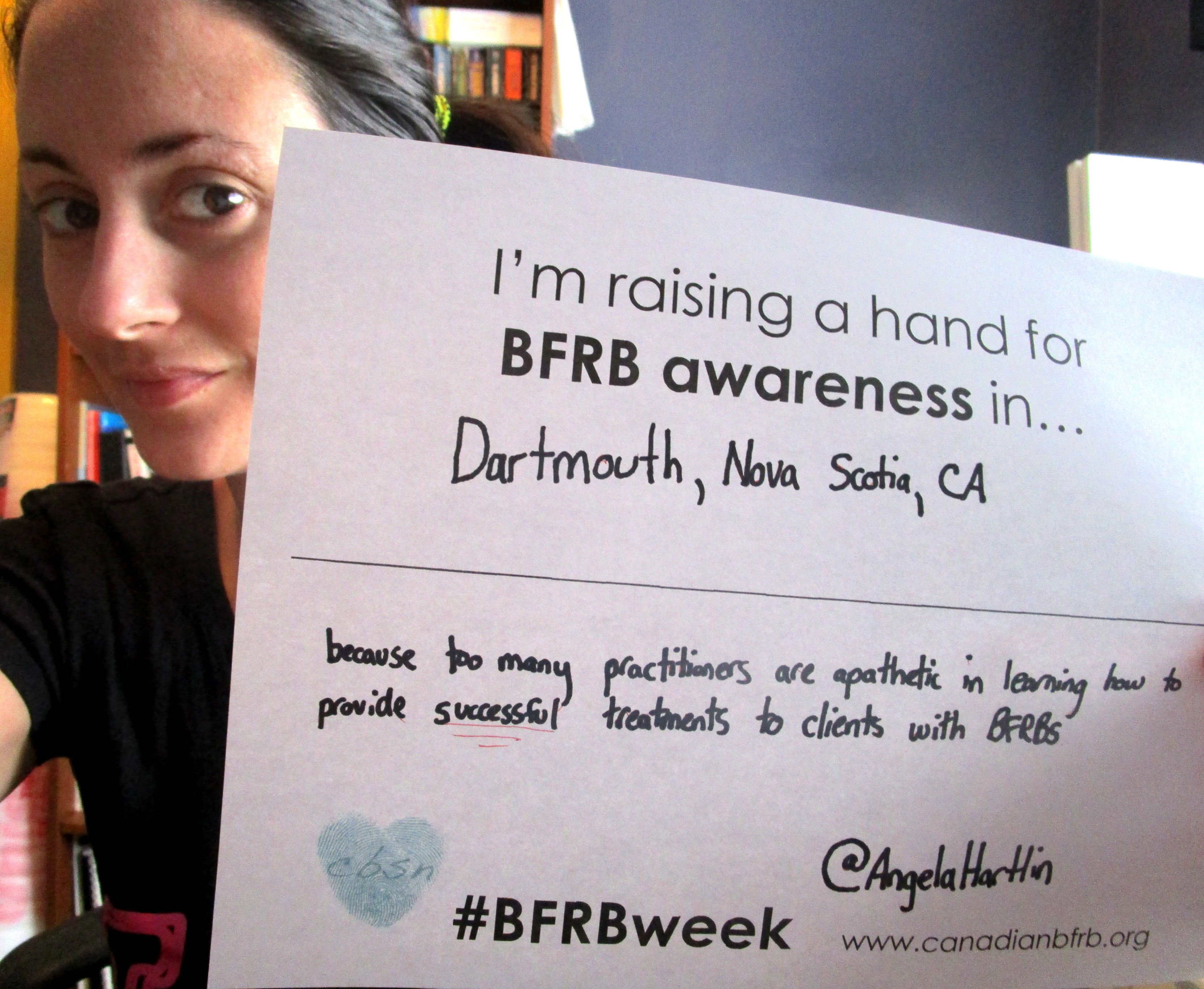 Why raise awareness? It doesn't affect me.

There are at least 60 reasons why we need awareness now but the top reasons are:
– We need trained practitioners to help us, not shun us
– Approximately 5% of the population struggles with a BFRB to varying degrees. That's 5/ 100 of your Facebook friends.
– Most of us believe we are the only ones with this problem.
– The effects of isolation from a BFRB can be devastating for a sufferer.
Did you know what a BFRB was before this post? Join me this week in eliminating the shame behind these chronic behaviors by participating in BFRB events through the Trichotillomania Learning Center, Canadian BFRB Support Network, and through my personal favorite #BFRBweek link sharings, as outlined below:
Day 1– The Organizations
Day 2– Everything BFRB
Day 3– Derma Advocates
Day 4– Trich Advocates
Day 5– Books & Films
Day 6– Success Stories
Day 7– My Contributions
With over 30 links to be educated and moved by
What can I do?
Share, share, share! Anything that shows up on your feed that promotes positive awareness, spread the word and encourage others to pay it forward. Join me on Facebook, Tumblr, and Twitter to help share the best of the best resources available to BFRB sufferers. This is my first BFRB Awareness Week in recovery and I want to help other sufferers gain easy and affordable access to proper treatment.
Let's make
#BFRBweek
trend on Twitter! Are you with me?!

There is strength in numbers. Together, we are strong.