When my cat died in July of 2014, I was absolutely devastated and I took to writing to pay a tribute to him- a life that encouraged me through my darkest times and loved me unconditionally for 15 years. I told myself that there is no pain in the world as great as losing him, so I sought out local therapy for my dermatillomania knowing full well that I had a better understanding of the disorder than therapists here. As a representative of the Canadian BFRB Support Network I believed that once being appointed a psychologist I could possibly maneuver myself within the system to get someone trained to treat myself and others locally who have Body-Focused Repetitive Behaviors (BFRBs).
This is the first time I've sought out for therapy since Dr. A* in FOREVER MARKED: A Dermatillomania Diary, in 2006 or '07. That's an additional 8 years of more marks, more minor infections, and in some ways, more hiding. By October of 2014 I met the person who was going to guide me through the tips and tricks I've learned over the years; I was disappointed that this man, a few years older than myself, didn't even know what a BFRB was and suggested that reading the one textbook he had on his desk (a reliable one, mind you) would be the only way he could help me.
Becoming a named advocate was the biggest mistake I made for MY emotional health around that time but it was part of my way to find healing. Unfortunately, when I came out of my highly depressive times I had to shut off the pain of having this disorder which helped to seal away the last of my emotions. I mean, who can stay tapped into the fact that she would look the way she did forever without ever having a chance to get treatment? That was my mindset so instead of sitting around crying about it feeling helpless, I found strength in challenging myself to "come out" and abolish my own shame. I can only speak for myself as an advocate and by no means imply that this is how other advocates are- in fact, I know that some are not and create awareness in a healthy manner instead of for survival. While creating a name for myself seems like a positive step forward, I wasn't moving through the pain of being openly ridiculed online or having snappy comments from TV hosts- I absorbed it because I was "tough" for survival purposes, which I believed to be natural of my personality.
At the third visit with this psychologist who insisted that he and his superiors didn't believe that the Trichotillomania Learning Center's PTI was an essential training program to treat me, we concluded together that I would not be seeing him because I knew that I knew more than him. Therefore, my education, stubbornness, and unwillingness to uncover things that could hurt me emotionally with untrained professionals determined that I was back at square one. This same day, my wonderful husband was with me to advocate on MY behalf and we signed off on a house! When we went home, a part of me was disappointed in who I had become because I no longer had naivity in the local system although I felt the need to reach out anyway. I had spoken to Leslie at TLC about this experience after she saw me post an update about online. She encouraged me to submit it to their blog, which it was published to a few weeks later.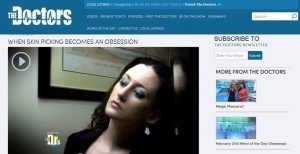 The very day I "Broke Up With My Therapist…" I received an e-mail from CBS asking me to appear on "The Doctors" and since then life has accelerated with great influences that may not be coincidental. After 8 years of not ever asking for help, I demanded better for myself and sure as hell got it with my therapist Karen Pickett. Most of this journey will be explained in EMBRACING DERMATILLOMANIA: My Skin Picking Recovery. It was early December of 2014 and I decided with Karen that it would be best to start therapy the first week of January- not as a New Year's Resolution, but to be rid of the chaos of the holidays and to be finished by the time my husband and I were to move into house we bought at the end of March of 2015.
Before it started, I approached Karen and asked her if I could write a book along the way- a diary entry detailing what occurred in each of our 12 sessions and additional entries outlining how I reflected on the sessions and homework. She agreed and even wanted to co-write it from the therapist's perspective! At this time, I also told her that I don't know what's wrong with me that I was unable to stop this behavior, using all the willpower I had, but that I would do anything she asked of me even if I didn't benefit from it- just to say I tried my damnedest given the special gift I was granted. If it didn't work, I planned on condensing my experience down to a blog post here but if it did work I could take everything I learned and publish it for the world to see the shifts in my brain that would lead to recovery. I didn't even know the meaning of "recovery" and now I know this definition far exceeds the idea of just "stopping picking".
The picking slowed down surprisingly quick in the first four weeks but nothing changed emotionally until the week after I moved and was getting ready to attend, and present at, TLC's 2015 Conference in Washington, DC. I have yet to write a blog post about it because of the incredible changes in my life these past 6 months, even down to minor victories I've achieved this week alone by being able to wear shorts again in public for the first time since I was 14 years old! Even with appearing on a local segment called "Mental Health Minute", my face was clearer than ever but I was experiencing life the same way despite my skin being clear and that's all I thought recovery would be. My urges would keep reducing until the therapy rewired my brain to get rid of them, right? So very wrong. Even as Dr. Renee Reinardy said, which stood out to myself and CBSN's blogger Laura Barton, our BFRB is the messenger trying to tell us that something is amiss in the moment an urge takes hold.
Ten months ago, a mind blowing tragedy somehow ended up gravitating my mind toward thinking of recovery, something I knew wasn't possible in my situation. I knew I needed help, that there was something in life I wasn't grasping- but now I have figured it out. I have also learned what urges are for me, which I've been frequently sharing random tips about on facebook . I've been receiving many e-mails asking me "
How did you do it? Please give me tips!
" and I've had to stop answering them because I hate giving the "
Wait until my book comes out and you can see EVERYTHING" schpeel
. It sounds
gimmicky
and I've been battling my own advocacy approaches since recovery because my message is louder and stronger than ever:
We exist and THERE IS HOPE FOR RECOVERY
. Unfortunately, the changes were gradual and no one method led me to where I am today. When more thoughts arise that I think can benefit the community, I will continue to share it on
my facebook page
.
In being found by CBS, presumably due to my visibility on Google (thanks to "12 Dermatillomania Myths"!), I earned my way to therapy by being a loud online presence for 6 years, but especially in the past 2.5 years when my back finally gave up on me. It forced me to ignore my inability to work and focus on doing what I could to feel useful, which was advocacy. It honestly sucks that I had to be "discovered" and placed on national television for therapy because the help should have been available in my community. When I was a child and exhibiting problematic signs, as a teenager when it accelerated, during my university years when I wanted to die, along with other definable times I can pinpoint, my disorder could have been reversed.
This opportunity is not a chance that everyone can get, sadly. Where I live on the east coast of Canada (Nova Scotia), this type of gift isn't given to people. Hollywood doesn't call up someone essentially granting them a trip to LA and free treatment so my hard, and sometimes frustrating, work in advocacy has led me to where I am today. This new platform and transformation drives me to push harder THAN EVER for awareness because I have met such amazing people with BFRBs over the years who I believe deserve the chance for recovery. I could stop fighting for awareness now that my picking has mostly subsided (this is a whole other story, but I still pick occasionally and fight urges multiple times a day) but I am angry for the community I love because there is a lot of suffering that I may be able to assist with in even the most minor of ways.
Another "coincidence" was that the documentary Scars of Shame was released a day or two unofficially before the conference. I had just moved into the house, which needed a lot of work, was getting ready for the DC trip, and the day after I returned I had finished my final appointment with Karen. It's as if everything was tied together in a neat little package for me, waiting for me to finally open up my mind and realize my full potential- what it means to be "in the present", which is much more in tune than the average person. As some of you may know, this documentary has taken forever to finish and I've had my fair share of frustrations due to its numerous delays in being released. However, the final product is amazing and something deep down is telling me that for some irrational and strange reason… perhaps I would not have been ready for the release until this had happened in my life. For whatever reason, the time was now
Unlike my hermit self before, I've become more open to reaching out to people in my life in and out of the BFRB community at various times. I'm letting my gut guide me and it has yet to fail, although there will be times it does, but without the guidance of the community leaders who are in various stages of recovery I wouldn't be able to keep faith in my own path. I challenge myself in my urges every day and am told they will die down but I am able to navigate through them. I can't yet fully articulate why I needed therapy and don't want to give the impression that you cannot succeed without it but I've uncovered just what purpose the picking served, for me, and I realized the reasons why I was so enmeshed with the behavior. MY BFRB: Urges (to look with eyes or roam with hands) = intense emotions that are crippling for this disorder to move through. As I suspected with myself, getting through urges wasn't about the "tips and tricks". Rather, there was something that kept me disconnected for most of my life and that part of me was worsening each year the disorder had its grips on me despite having an amazing life to be proud of.

PLEASE help me achieve my goal of worldwide awareness of Dermatillomania and other Body-Focused Repetitive Behaviors!
I have been questioned about my newfound heavy advocacy to get my message out and,
with statistically 2% of your friends suffering
with what I DO, you really don't know if your sharing my story will open up their world of darkness of believing that they are alone, like I did for an isolating decade. I am not an advertiser or marketer and the part of advocacy that entails this wrecks me. I like to create what I believe will benefit other sufferers. This is my path.
Years ago I thought I was a freak, inside and out, and while I had battled some body image issues pre- recovery I wasn't able to fully confront myself and challenge my own perceptions. I ask you today, even if you choose to not share my work or blog entry, to find an article on BFRBs and share it with your friend's list. Tweet it. Blog it. Anything social media related- please, spread awareness! Furthermore, spread hope and let your friends know that YOU are a safe person who will not judge us by sharing this information. We, in the community, are skeptical about even the most open of people because they still don't know about us and when they do, some are still shocked and even judgmental. Here are the two best websites I can offer to provide accurate details and support about these conditions (you can find more on my supports pages):
www.bfrb.org
www.canadianbfrb.org
I want to help the world. It takes a collective, a group of people to care about the suffering of another being, to create the change I've so badly wanted for myself and the community for many years. Now that I have a taste of freedom, I want to give it back in a multitude of ways to my second family, the BFRB community. I need you to believe in me. Thank you for all the support and encouragement you have shown me over the years because I've always needed your motivation to help me continue shouting to the wind about these serious afflictions. From the bottom of my heart, thank you for reading, sharing, and believing in me even when I didn't always believe in myself.
Please help our disorders become "household names". Even in recovery, I still suffer but I know now how to navigate through each moment and come out victorious from most battles. Thank you!
<3 Angie