When celebrities talk about skin picking, their platform brings much-needed awareness for excoriation disorder and other body-focused repetitive behaviors (BFRBs). Many of these influential figures have come out with their struggle, helping to shed stigma and reaching many who still suffer in silence and shame.
Celebrities
Tulisa Contostavlos
As the first celebrity to speak out about her skin picking, X-Factor host and member of the UK hip-hop group N-Dubz, Tulisa Contostavlos shares in her 2012 memoir, Honest: My Story So Far: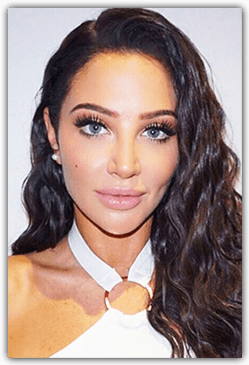 "Picking my face was my way of zoning out, and I would go into the bathroom and pick at my skin for hours," she says. "It got so bad that eventually I was tearing into my face with nail clippers and tweezers. At times, I caused an absolute catastrophe on my face, leaving gaping, weeping holes that must have looked horrendous. I did this almost every day for three years."

– Tulisa Contostavlos
After her personal assistant found her picking in the bathroom, she was taken to see a hynotherapist. She immediately picked her face after, and has since managed to get it under control. When referring to her recovery Tulisa has said, "Let's hope it stays this way".
Tallulah Willis
After her first viral Instagram post opening up about her dermatillomania, actress Tallulah Willis has shared a few shout-outs to the dermatillomania community since. Also known for being one of Demi Moore and Bruce Willis' daughters, Tallulah has been making waves by raising awareness for mental health and compulsive skin picking.
View this post on Instagram
When talking to C Magazine about her Instagram platform and opening up about her struggles, Tallulah shares:
I struggle with adult acne and have had this sort of massive turmoil with my skin for the past six years, and an element of OCD, which I'm diagnosed with, is this skin-picking. It's this sort of obsessive … It's a control element. It's a way to sort of cope with anxiety, depression. And during the quarantine, I started posting about my skin-picking. I was just kind of doing it as a, "Hey, I'm doing this, and this is what it is." And I had an influx of people just saying: "Thank you for creating visibility on this," "Me too, I also do this," "Thank you for talking about this," "I didn't know anyone else did this." And so those are the moments that I think it can be a really beautiful thing.

– Tallulah Willis
Busy Philipps
Actress Busy Philipps has shared how meditating twice a day for 20 minutes helps with her face picking, and opened up about criticisms she has received about her skin.
Rosie O'Donnell
On New Year's Eve in 2020, comedian Rosie O'Donnell asked on TikTok if anyone else is spending the night how she is- picking. She shares that has seen a mental health professional who diagnosed it, and she doesn't do it as much anymore.
Brandi Glanville
The Real Housewives of Beverley Hills star, Brandi Glanville has received lots of criticism for her appearance over the years. She has spoken out about having psoriasis and melasma, along with burns on her face from laser treatment.
In her 2013 New York Times bestseller, Drinking and Tweeting: And Other Brandi Blunders, Glanville admits that she developed skin picking after her divorce. In it, she shares:
I'd relapse so bad into my skin picking addiction that I'd wake up the next morning with my face looking like a pepperoni pizza.

– Brandi Glanville
Tavi Gevinson
American actress, writer, and magazine editor Tavi Gevinson opened up in her 2019 New York Magazine interview about skin picking and describes how she started, describing its aftermath: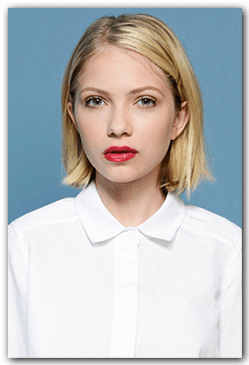 "Once I realize what I have done, I examine my reflection and feel like a stupid feral animal. I hate that my face so easily betrays my anxiety, that whether I go bare or wear cakey makeup, I am wearing my psychology for all to see. The self-loathing leads to more picking, and the cycle continues."

– Tavi Gevinson
Natasha Negovanlis
Canadian Screen Award winning actress Natasha Negovanlis discloses how her OCD manifested in skin picking in 2015, sharing she often wears pants and long tee-shirts to hide it.
Public Figures
Renee Rouleau
As a celebrity esthetician, Renee Rouleau has brought awareness to dermatillomania through her practice and from personal experience. With Marie Claire calling her "the most passionate skin practitioner we know", she confessed in her blog that she is a former picker who gave it up as her 2001 New Year's Resolution.
Alyssa Coscarelli
In 2019, fashion influencer Alyssa Coscarelli penned a piece about her anxiety and the pressure to look perfect. She also shared this:
View this post on Instagram
Elizabeth Hayt
Author of I'm No Saint: A Nasty Little Memoir of Love and Leaving, Elizabeth Hayt wrote the opt-ed The Pick-It Line for Elle Magazine about skin treatments and her battle with both dermatillomania and chronic nail-biting.
Colleen Ballinger
Known for her online personality Miranda Sings on Youtube, Colleen Ballinger made a video in 2020 addressing her experiences with dermatillomania.
Nicole Brown
Ex-wife to football player O.J. Simpson, who was acquitted of her murder during the "trial of the century" then found legally liable for her death in civil court, Nicole Brown's skin picking was discussed during one of Simpson's taped depositions: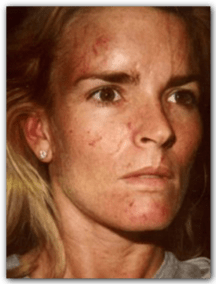 Q: You caused all those marks on her face that you see in these pictures, didn't you?

A: Some of them may have just been her picking her face, but if there's bruises and stuff, I'm certainly responsible for them, yes.

– OJ Simpson w/ interviewer
While abuse isn't exclusively linked to excoriation disorder, domestic violence often creates and intensifies mental health concerns, as it likely did for Ms. Brown during her tumultuous marriage.
If your skin picking is negatively impacting your life, you are not alone. Whether you have 10 followers or 10 million, your voice is important in educating others and empowering people around the world.
---